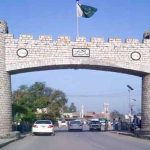 MINGORA: Six political parties have formed an alliance against Pakistan Tehrik-e-Insaf (PTI) to form local government in Swat district.
Pakistan People's Party, Awami National Party, Pakistan Muslim League (Nawaz), JUI-F, Jamaat-e-Islami and Qaumi Watan Party have joined hand against the PTI in Swat.
They have agreed to form coalition government in district and five tehils of the Swat district.