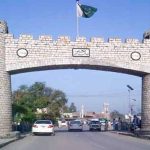 BARIKOT: At least six people lost their lives and another person sustained critical injuries on Saturday morning when their car plunged into Panjgur River near Barikot area of Upper Dir.
Meanwhile, passersby rushed to the spot and began recovering the bodies.
Later, police and rescue workers moved to the place and shifted the bodies to a nearby hospital for medical attention.
Police told the media that the car was travelling from Barikot to Kohistan.