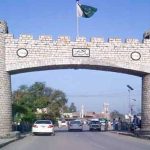 FAISALABAD: Security forces during a combing operation at midnight in Faisalabad arrested six terrorists, says Inter-Services Public Relations (ISPR) on Thursday.
According toISPR, various areas of Faisalabad were searched during the operation adding some of the arrested terrorists were on the watch list since 2014.
The terrorists include handlers of suicide bombers and recruiters of attackers.
Previously, 196 terrorists of different outfits were arrested in the combing operations in Punjab.
Out of 196 terrorists, nine were from Al-Qaeda and 13 from Tehreek-e-Taliban Pakistan (TTP). Most of the arrested terrorists belong to Lashkar-e-Jhangvi.
Five of Al-Qaeda's terrorists were arrested from Lahore and four from Dera Ghazi Khan.
Combing operation have not only broken the back of terrorists but also helped in restoring peace in country.