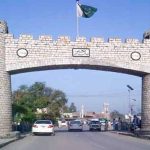 PESHAWAR: At least six suspected militants were killed and as many injured when jets pounded hideouts of Tirah valley in Khyber Agency.
Security sources said that the jets destroyed at least two hideouts, adding that one of them was housing an ammunition dump right on the border with Afghanistan.
The source said that the hideouts belonged to the Tehreek-e-Taliban Pakistan.
Rajgal and its surrounding areas were considered to be stronghold of the militants around eight years ago, however, successive military operations have ended the influence of militants.
The strikes have been mostly concentrated in areas on the border.