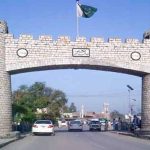 WANA: At least six terrorists were killed during an intelligence based operation in Spena Mela area of South Waziristan Tribal District of Khyber Pakhtunkhwa on Saturday, ISPR said.
The security forces carried out intelligence based operation under Raadul Fasaad operation in Spena Mela area near Ladah, the ISPR said in a statement. The operation was carried out on the information about presence of terrorists.
The ISPR said that the killers of tribal elders were also among the dead terrorists. The ISPR also confirmed the martyrdom of Hawaldar Razaq Khan and Hawaldar Mumtaz Hussain in the operation.
According to some reports, three soldiers were also injured in the operation.