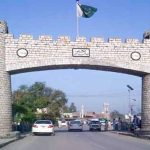 KARACHI: As many as 16 suspected terrorists of Tehreek-e-Taliban Pakistan (TTP) were arrested in a joint operation of Counter Terrorism Department (CTD) and Sindh Rangers in Karachi.
A Rangers spokesperson said in a press release on Friday that the operation was conducted after secret information regarding the presence of terrorists in Karachi's Sohrab Goth Gaye Mandi and Mominabad areas.
The press release added that after the operation was completed, the alleged terrorists were handed over to the CTD.
Bombs, hand grenades, weapons and ammunition were recovered from the suspected terrorists' hideout, it wrote.
According to the Rangers press release, the suspected terrorists captured during the operation have been identified as Rafiullah Arif alias Qari, Abdul Majid alias Mufti, Mohammad Younis Arif Ans alias Yousuf Saleem, Mohammad Razaq, Shams Alhuda alias Maulvi, Umar Khaliq alias Hussain, Mohammad Junaid alias Abdul Manan, Junaid Ahmed, Khan Bahadur, Abdul Gaffar alias Abu Huraira, Mohammad Zainul Abideen alias Siddiqui Arif Saifullah, Saifullah, Mohammad Asif, Sanaullah, Abdulaziz and Umar Ali.