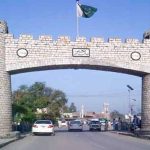 SKARDU: Life in upper parts of the country has been paralyzed due to continuous snowfall.
More than 80 link roads are blocked in Skardu due to snow, and land sliding has choked Gilgit-Skardu road as well.
People have been limited to their homes as snow is falling for three days in Skardu, and the flights remained cancelled on the fifth day also.
Rain and snowfall in Azad Kashmir also made the life of locals difficult. Clouds kept on pouring in Muzaffarabad, Rawalakot, Bagh, Hattian Bala and Neelam Valley.
Land sliding and snowfall jammed main roads as well.
On the other hand, it is twentieth day of snowfall in Kaghan that has frozen the life.
Kaghan-Babusar road is also blocked as a result of this snowstorm.
Roads in Ghanche and Khaplu are covered with snow as well, making movement impossible for locals.
The Met Office has predicted more rain and snowfall the upper regions as well as in Quetta and Kalat.