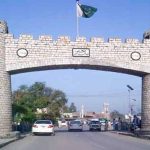 KARACHI: Pakistan Peoples' Party Chairman Bilawal Bhutto Zardari Thursday said he had directed Home Minister Sohail Anwar Siyal to investigate the killing of Naqeebullah Mehsud.
Naqeebullah Mehsud, a 27-year-old resident of South Waziristan, was killed during a police encounter in Karachi on January 13.
SSP Malir Rao Anwar in a media talk claimed to have shot dead four terrorists, including Naqeebullah, affiliated with Tehreek-e-Taliban Pakistan (TTP) and Lashkar-e-Jhangvi at Shah Latif town.
However, relatives of the deceased have term the incident an extrajudicial murder.
The killing of Naqeebullah Mehsud sparked outrage on social media after which Bilawal took notice of the incident.
Following Bilawal's directions, Home Minister Siyal also swung into action for the conducting an inquiry into the incident.
Siyal made South Deputy Inspector General (DIG) Azad Khan inquiry officer to probe into Naqeeb Mehsud's encounter case.
Meanwhile, Pakistan Tehreek-e-Insaf's (PTI) leader Khurram Sher Zaman submitted a resolution in Sindh Assembly, condemning Naqeeb's murder.
He demanded of the Chief Justice of Pakistan (CJP) Mian Saqib Nisar to take notice of the case as extrajudicial killing of anyone is unaccepted.
Sher Zaman also insisted to ask Malir SSP about Naqeeb.