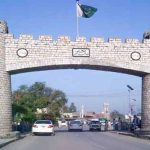 CHARSADDA: A soldier embraced martyrdom and four others were injured in a clash with militants in Charsadda on Thursday.
According to reports, the clash occured in Najeem Koroona area of Khanmai in Charsadda in which a terrorist was also killed. The CTD said that a terrorist at the home of one Gul Nazak was killed during the operation. The security forces cordonned of the whole area during the operation.
During the operation, a security personnel, Wajid was martyred. A civilian, identified as Yasir, also lost his life in the operation. Two Pakistan Army personnel and two personnel of CTD were also injured in the operation who were shifted to Peshawar.
The sources said the operation was launched at 4:00am in Khanmai area which continued for several hours.
There were no reports about any arrests during the operation.
The security forces have recently stepped up operations against terrorists in Khyber Pakhtunkhwa after receiving credible information about their presence in some areas.
The operation in Charsadda happened two days after a security official was martyred and another was injured in a bomb attack on their vehicle by unknown miscreants in Mir Ali sub-division of North Waziristan tribal district.
Police and local sources said unknown miscreants attacked a vehicle of the security forces with a remote control bomb and also opened fire on it on Tuesday.