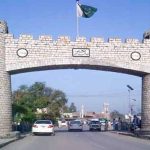 ISLAMABAD: Pakistan Muslim League-Nawaz's (PML-N) rebel lawmakers from South Punjab, led by MNA Khusro Bakhtiar, announced merger of South Punjab Province Front with Pakistan Tehreek-i-Insaf (PT) on Wednesday.
The announcement was made by PTI chief Imran Khan and leaders of the front during a press conference in Islamabad. The PTI chief and Bakhtiar signed the agreement on this occasion.
Khusro Bakhtiar said that the PTI chief Imran Khan had supported their demand for separate of South Punjab during his address to April 29 rally in Lahore.
Lamenting that the PML-N did not listen to their demands for a separate province, Bakhtiar asked, "Then who should we have gone to?"
"PPP also raised the slogan for a separate South Punjab province but failed to fulfil its promise," he said.
He said, "Imran Khan and I have decided to join hands." He said that South Punjab has been home to his family for nearly 800 years. "We have faced a lot of injustices," he said.
Imran Khan welcomed the new comers and said, "I am fairly new to politics but you would remember that a lot of parties before me promised a South Punjab province and did not deliver."
"I believe that it is very difficult to administer big units," he said explaining why he supports a separate province for South Punjab. He said that the party tickets for elections would be awarded on merit, adding that he would himself award the tickets.