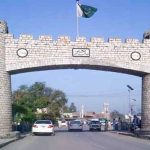 SPAIN: Upon requests of the CRA Cubillos del Sil students, a park has been inaugurated officially in honor of the glorious empowerment journey led by Malala.
The dedicated playground named 'Malala Makai', located next to the School of Music in Spain, opened gates during a specialized ceremony as the move was deemed extremely important by the city mayor Antonio Cuellas.
According to him, the acknowledgement and appreciation of Malala's lifelong struggle for education in previously Taliban-ruled Swat is necessary in every part of the world.
Malala, an epitome of bravery, holds the title of youngest Nobel Laureate. She is also working currently as an ambassador of promoting education amongst Syrian girl refugees.
The teachers of the school seemed happy about the fact that the request was put forth and started by the students themselves after they observed that no public space held remembrance to any exemplary woman.
Hence, they decided to write to the City Council to designate a space or street featuring Malala at its forefront.