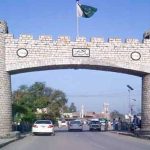 PESHAWAR: The Khyber Pakhtunkhwa Assembly will elect Speaker and Deputy Speaker on August 15 (Wednesday) for the term 2018-23, said Aurengzeb Nalota while presiding over the new assembly session on Monday.
Governor Iqbal Zafar Jhagra had nominated PML-N Parliamentary Leader Sardar Aurenzeb Nalota for the inaugural session of the new assembly to take oath from the new MPAs. In all 111 MPAs took oath as member of the house in the inaugural session which was adjourned by the chair till August 15
wherein election for the post of Speaker and Deputy Speaker to be held.
The aspirant candidates have been asked to submit nomination papers for the election of Speaker and Deputy Speaker with the Secretary Assembly till 4pm of August 14.
Mr Nalota will administer oath of office to new speaker after the election on August 15 and as such the new speaker will administer oath to his deputy.
The sources in the Assembly informed that election for the post of Chief Minister would be held on August 16 for which nomination paper will be invited on August 15.