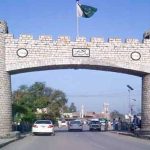 ISLAMABAD— The acting Speaker of the National Assembly (NA) Qasim Suri has accepted the resignations of 123 Members of National Assembly (MNA).
According to details, The Pakistan Tehreek-e-Insaf (PTI) members had given their resignations to the Speaker on PTI Chairman Imran Khan's orders.
While taking over his Twitter handle, PTI leader Farrukh Habib said that the National Assembly Secretariat has issued the notification to accept the resignations.
PTI Chairman Imran Khan, in his tweet, appreciated the 123 PTI members for standing firm against regime change.
Want to appreciate our 123 MNAs as their resignations have been accepted by Speaker Qasim Suri. Their standing firm for a sovereign Pak & against US-initiated regime change bringing to power criminals, convicted & on bail – the ultimate insult to any self respecting indep nation.

— Imran Khan (@ImranKhanPTI) April 14, 2022
According to details, after the acceptance of these resignations put forth by the PTI members, it has become inevitable not to conduct the general elections in the country.
It merits mention here that earlier today, the National Assembly Secretariat had refused to accept the resignations of PTI members.
The Secretariat had taken a stand that no member's resignation could be sent to the Election Commission without individual confirmation, while the Deputy Speaker Qasim Suri wanted to accept all resignations by April 22.
It is to be noted that 123 lawmakers from the party of ousted prime minister Imran Khan had collectively resigned from National Assembly,  ahead of the vote to elect a new prime minister.