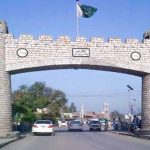 LAHORE: A special court headed by Lahore High Court (LHC) Chief Justice, Justice Mohammad Yawar Ali will hear the high treason case against former president General (retd) Pervez Musharraf on August 20.
The bench comprises Balochistan High Court's (BHC) Justice Tahira Safdar, who is recently appointed as the province's chief justice, and Sindh High Court's (SHC) Justice Nazar Akbar.
It is worth mentioning that Pakistan Muslim League-Nawaz (PML-N) had filed treason case against Musharraf for violating Article 6 of the constitution and overthrowing Nawaz Sharif's government in 1998 with a military coup.