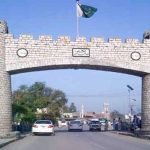 QUETTA: A special investigation team has been formed to investigate Tuesday's suicide bombing near the Balochistan Assembly building in Quetta.
At least five policemen and two civilians were killed on Tuesday when a suicide bomber wearing a vest having up to 10kg explosive material with ball bearings blew himself up near a police vehicle at GPO Chowk.
The attack took place at 6:04pm when a large number of media persons were present outside the Balochistan Assembly for the live coverage of the proceedings of the no-trust motion filed against Chief Minister Nawab Sanaullah Zehri who resigned before the session could decide his fate.
The Pakistani Taliban claimed responsibility for the attack, saying a suicide bomber targeted a police contingent returning from duty at the assembly building.
"The target of the suicide hit was police," said Balochistan IGP Moazzam Jah Ansari, talking to media persons at the blast site. He added the primary target of the bomber was police that was why he blew himself up close to their vehicle.
"The explosive between 15kg and 20kg was used in the suicide blast," said the civil defence deputy director in a report about the blast.
"The bomber who carried out the blast was on foot and was around 15 to 20 year old," said the deputy director. The area was, however, cleared by the bomb disposal squad after strenuous efforts.