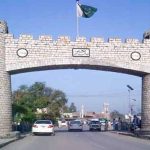 SIALKOT: A Sri Lankan national, working as a manager at a private factory on Wazirabad Road in Sialkot, was tortured to death by a mob over allegations of blasphemy, authorities said.
District Police Officer Omar Saeed Malik said the workers of the factory severely beat the foreigner, leading to his demise.
The employees also vandalised the factory and blocked traffic, according to the police. Upon receiving a report of the incident, a heavy contingent of police reached the spot and tried to control the situation.
"After successful talks with the angry group of protesters, traffic was resumed on the road," the police official said.
The DPO said an investigation into the death of the foreign manager is under way.
Chief Minister Punjab Usman Buzdar said he was "extremely shocked at the horrific Sialkot incident", stressing that no one is allowed to take the law into their hands.
Punjab government spokesperson Hassan Khawar, in a media briefing, said that "approximately 50 people have been arrested".
"CCTV footage is being obtained so that those who were responsible can be identified. Besides this, the RPO and commissioner of Gujranwala Division are on location and personally monitoring the situation.
"The IG has directed law enforcement personnel to produce results in 48 hours after which the probe will be extended," the spokesperson said.
He said he assures everyone that justice will not only be served but will seen to be served.
"Pakistan, in fact any civilised society, cannot allow such gruesome acts to occur. We will conduct a completely impartial inquiry," he said.
"Islam is a religion that preaches peace, security and brotherhood and forbids torture. Those responsible for this act will not be accorded any concessions and will be prosecuted under the law," Khawar said.