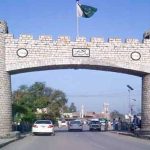 ISLAMABAD: Sri Lankan President, Maithripala Sirisena has arrived in Pakistan on a three-day official visit.
Governor Sindh Muhammad Zubair received him at Karachi airport this afternoon. Maithripala Sirisena will be the Guest of Honor on Pakistan Day parade.
The participation of President Sirisena in the parade is a demonstration of the very close ties between Pakistan and Sri Lanka and the respect in which the people and leadership of Pakistan hold the President of Sri Lanka. During the visit, the Sri Lankan President will meet the President and the Prime Minister to review all matters of mutual importance.
MoUs on cooperation in the fields of training of civil servants, diplomats and youth development would also be signed during the visit. The visit will provide renewed impetus to bilateral relations between Pakistan and Sri Lanka and enhance the goodwill existing between the people of the two countries.