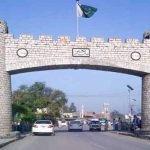 MANGLA: Chief of Army Staff General Qamar Javed Bajwa remarked that Pakistan has come a long way in responding to challenges and the country is bound to rise while interacting with Mangla Corps troops on Tuesday.
According to Inter-Services Public Relations (ISPR), General Qamar Javed Bajwa said: "We have come a long way in responding to the challenges and with God's will Pakistan is bound to rise."
The only thing needed is to stay steadfast and remain united as a nation, he remarked.
COAS spoke about the challenges facing Pakistan and quoted the founder of the nation Quaid-e- Azam Mohammad Ali Jinnah that no power can undo Pakistan and for this purpose nation and its state institutions shall continue to cohesively perform in best interest of the country.
While interacting with Mangla Corps troops, COAS appreciated state of high morale and standard of training.
He said that despite our commitments on western border and internal security duties we cannot remain oblivious of perpetual conventional threat which demands high standards of training and operational readiness.
The COAS had visited the Strike Corps at Mangla, where he witnessed ongoing training and addressed officers and troops, the ISPR said.
Upon arrival at Mangla, COAS was received by Commander Mangla Corps Lieutenant General Azhar Saleh Abbasi.
Inspector General Training and Evaluation Lieutenant General Hidayat Ur Rehman was also present on the occasion.
Earlier in the day, Chairman Joint Chief of Staff Committee (JCSC) General Zubair Mehmood Hayat said on Tuesday that the Indian intelligence agency, RAW, has allocated $500 million to carry out sabotage activities against the China-Pakistan Economic Corridor.
The path to better relations with India pass through Kashmir, there is no bypass, he remarked. However, India was perpetrating terrorism in Pakistan through Taliban, Baloch separatists and RAW, he added.
By doing so, India was playing with fire and the peace of South Asia, the general said further.
General Zubair was addressing a two-day international conference on regional dynamics and strategic concerns in South Asia organised by the Islamabad Policy Research Institute at Serena Hotel.