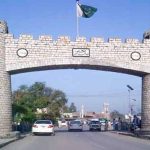 ISLAMABAD: Responding to the military spokesperson press conference, Railway Minister Khawja Saad Rafique has said that his statement regarding state institution was taken out of context.
The minister in a statement said that he was a responsible person and he had never adopted none-serious and unconstitutional behavior nor targeted the institutions.
He said that his speech on the death anniversary of his father was about harmony among the institution to work for the betterment of the country.
It was inappropriate to use only few words instead of the whole speech. Some News channel had fabricated his words, he added.
He said that he would continue to work silently for institutional harmony.
Those creating misunderstanding among institutions were enemies of the country, he maintained.
Let it be known that Director General (DG) Inter-Services Public Relations (ISPR) Major General Asif Ghafoor on Thursday said Khawaja Saad Rafique's remarks about civil-military administration were irresponsible and unwarranted.
Addressing a press conference, he said that the minister's statement was taken with concern adding that the statement did not appear to be unintended.
"There are some institutions which are also protected by the Constitution," the military spokesperson said, adding, the minister's statement also violated the Constitution.
He wrapped up his press conference while saying: "If the Army is determined and confident to stay within the bounds of the Constitution, it becomes responsibility of every citizen to respect the law and stay within the constitution's bounds."
It merits highlighting here that Rafique in a ceremony marking his father's anniversary said that Gen Bajwa's appearance before senators on Dec 19 was a confidence-boosting move as he upheld the democratic norms and continuity in his speech.
However, Rafique then said others should also come forward to support the army chief's stance on whom 'his command is applied to'.
"They should also follow the order," the minister then said.