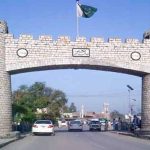 ISLAMABAD: Prime Minister Shahid Khaqan Abbasi has reiterated commitment for merger of FATA with Khyber Pkahtunkhwa.
He was talking to Governor Khyber Pakhtunkhwa Iqbal Zafar Jhagra in Islamabad on Thursday.
The Prime Minister said that wok on creating an enabling environment and taking required legal and administrative measures for the purpose was being done on fast track basis.
Overall situation in the province and steps being taken for mainstreaming of FATA were discussed during the meeting.
Developmental projects in the province also came under discussion.