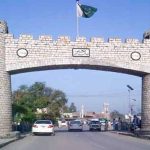 ISLAMABAD: The Senate was informed that steps are being taken to enhance security of the federal capital under safe city project.
Minister of State for Interior Muhammad Balighur Rehman told the House during question hour that 1900 CCTV cameras have been installed at different points in Islamabad. He pointed out that these cameras are helping to identify the criminals and stop crimes. He said private shopping malls and business centres are also being encouraged to install these cameras.
The Minister of State said that Punjab Government is also going to implement safe city project in six cities in the province.
To a question, Balighur Rehman said there are three model addiction treatment and rehabilitation centres running under supervision of Anti-Narcotics Force, one each in Islamabad, Quetta and Karachi. He said that number of drug addicts in the country is in millions. He pointed out that these centres have treated 3408 patients during the last three years. Another centre of this kind is also being established in Peshawar this year. He said major hospitals in the country have committed to establish a separate ward for treatment of drug addicts.
Replying to a question, Minister for States and Frontier Regions Abdul Qadir Baloch informed the House that FATA Development Authority is taking steps to promote industrial sector in FATA. He said Marble City in Mohmand Agency, with a capacity to accommodate about 290 industrial units, is in advanced stages of completion and is being included in the CPEC. He said two industrial estates are being established in FR Kohat and North Waziristan Agency.
To another question, Minister of State for Information and Broadcasting Marriyum Aurangzeb informed the House that PEMRA has issued 3994 Cable TV licenses across the country. She informed that the Authority has taken action against 112 illegal cable TV networks during the past six months which were operational without licenses across the country.
Answering a question, Marriyum Aurangzeb said restructuring and human resource audit of five attached departments of the Ministry of Information and Broadcasting is being carried out and the process will be completed in April this year. These departments include PID, PTV, Cyber Wing, Information Service Academy and Institute of Regional Studies. She said Pakistan National Council of the Arts has increased its activities to promote arts and culture in the country.
Chairperson Standing Committee on Foreign Affairs Nuzhat Sadiq presented before the House report of the Committee on the mid-year review of budget of the Ministry of Foreign Affairs.
The Senate also passed "The Hindu Marriage Bill, 2016" moved by Minister for Law Zahid Hamid. The bill provides for solemnization of marriages by Hindu families.
The Minister said the bill will institutionalize marriages of the Hindu community. He said there was no documentation previously in this regard. He pointed out that the bill has full backing of Hindu community, members of the National Assembly and other concerned forums.
Three more bills were also laid before the house.
These are "The Companies Bill, 2017", "The Pakistan Air Force (Amendment) Bill, 2017" and "The National Commission on the Rights of the Child Bill, 2017".
The chair referred these bills to committees concerned for further deliberations.