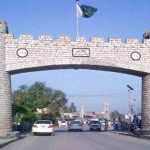 KARACHI: Pakistan People's Party (PPP) Chairman Bilawal Bhutto has kicked off election campaign after arriving in Lyari and addressing party workers on Sunday.
This will be the first general election in the political career of Bilawal as he is contesting from National Assembly constituency in Lyari — NA-246.
Upon arrival, the PPP Chairman chanted slogans saying that he will honor all of his promises as per his manifesto.
He added that a program would be implemented through which people would receive basic facilities on subsidized rates.
Meanwhile, the residents of Lyari including women enraged by water shortage pelted stones at the convoy of Bilawal Bhutto Zardari.
To control the situation, additional contingents of police have been called in, who have started shelling to disperse the fumed residents.
The residents were chanting slogans "give us water, give us water".