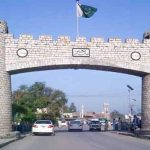 RAWALPINDI: A passenger bus ran over a student to death in Gujjar Khan area of Rawalpindi on Wednesday morning.
According to media reports, the deceased student tried to get on the bus when he lost his balance and fell down.
Reports quoted fellow students of the deceased that the driver sped the bus when he saw the deceased trying to get on board.
The student sustained injuries as a result and was shifted to hospital for medical assistance where he breathed his last.
The incidents charged fellow students of the deceased who torched the bus and blocked Lahore-Islamabad GT Road.
They were demanding strict punishment for the bus driver.