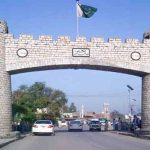 ISLAMABAD: Foreign Minister Khawaja Muhammad Asif on Wednesday said that our success against the menace of terrorism is helping us realize vision of a democratic Pakistan.
Khawaja Asif was addressing the closing session of three day International Counter Terrorism Forum, organized by National Court-Terrorism Authority, in Islamabad today.
The theme of the Minister's speech was vision for a democratic Pakistan.
The Foreign Minister said the whole nation stands united in the fight against terrorism.
He said Pakistan has been a major victim of terrorism. Terrorists are trying to undermine our sovereignty and no country can ignore attacks on its territorial integrity.
Khawaja Muhammad Asif said our forces have offered unprecedented sacrifices to defend the motherland and they are ready to offer more sacrifices for the country. He said the nation has unwaivering resolve to eliminate terrorism.