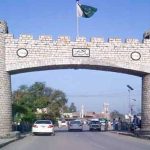 KABUL: At least six civilians, including a woman and a child, were killed and 13 others wounded on Sunday in a blast in Jalalabad, Tolo News reported.
The incident occurred at around 1:30pm in PD-1 of Jalalabad city after a suicide bomber on a motorcycle detonated his explosives, a spokesman for the provincial governor Attaullah Khoghyani said.
"The victims have been taken to the nearby hospital and the governor has ordered urgent assistance to the victims," Khoghyani said. He did not provide further details.
No group, including the Taliban, have claimed responsibly for the blast yet.
Initial reports stated the bomber exploded himself near the Shirzai Stadium where a gathering was being held.
The city has been a target of terrorist attacks multiple times this year.
At least eight people were killed in the city on November 23 in a suicide attack.