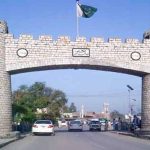 ISLAMABAD: A supplementary reference has been filed by National Accountability Bureau (NAB) in accountability court against the Sharif family on Monday.
The reference against the Sharif family pertaining to the Avenfield flats has been filed after a team of NAB recently visited the United Kingdom to gather evidence against the family.
According to media reports, the reference is based on the statements of seven new witnesses, which also include two foreigners.
Let it be known that a team of NAB, in December last year, visited London to meet the Home Office officials in connection with the Avenfield flats of the sons of the disqualified premier Nawaz Sharif.