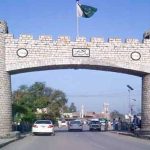 LAHORE: Chief Justice of Pakistan Mian Saqib Nisar on Saturday ordered complete audit of Pakistan Railways.
A two-member bench comprising CJP Mian Saqib Nisar and Justice Ijazul Hassan heard the suo moto case regarding Rs60 billion losses suffered by Pakistan Railways at the Supreme Court's Lahore Registry.
Railway Minister Khawaja Saad Rafique was also present in the court.
Earlier on April 7, Chief Justice (CJP) Mian Saqib Nisar took suo motu notice of Rs60 billion losses incurred by Pakistan Railways. The CJP had directed the secretary and members of the Railways Board to appear before the court for the next hearing with audit reports that can explain the causes that resulted in the massive losses.
"The Indian minister for railways Lalu Prasad was an illiterate person but made the department profitable. Today his theory is being taught in Harvard University," the CJP remarked during previous hearing.
"In our country, tall claims of profitable railway have only been made in rallies while the real situation is just the opposite. This is not a kingdom where one can take whatever he wishes," the CJP added.