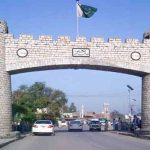 ISLAMABAD: The Supreme Court of Pakistan Monday upheld the verdict of Sindh High Court (SHC) and quashed the travel ban on the fashion model Ayan Ali dismissing the petition filed by federal interior ministry.
During the hearing, the Chief Justice of Pakistan queried the interior ministry, "Was Ayan Ali's name put on the ECL in murder case?" adding the dollar girl was in jail when the investigation officer (IO) was murdered. "You want to disallow her to leave the country at all cost," the CJP added.
Counsel of the interior ministry observed Punjab government pleaded to slap travel ban on Ayan Ali so that she may be interrogated in murder case; accordingly, her name was put on the ECL under clause-109.
The CJP remarked, "How many people were put on ECL under clause-109?"
The apex court upheld the SHC ruling allowing the fashion girl to travel abroad.
It should be mentioned here that the federal interior ministry, a couple of days ago (Friday) challenged SHC verdict regarding withdrawal of Ayan Ali's name from exit control list (ECL) in the apex court in currency smuggling case.
The ministry pleaded in its petition that Sindh High Court (SHC) decided on merit but did not take into account the maintainability of the petitions against ban on the fashion model to leave the country.
The petition said name of Ayan Ali was put on ECL at the behest of Punjab Home Department; however, Punjab government was not heard.
Making Ayan Ali a party to the case, the ministry pleaded with the court to annul SHC verdict.
It should be mentioned here that a SHC referee judge on January 20 suspended the court's order to remove from name of fashion model Ayan Ali, and allowed the federal government to file appeal against SHC decision within ten days.
It is pertinent to note here that the dollar girl was disallowed to leave the country after she was caught red handed while smuggling 500,000 Pounds Sterling to Dubai from Islamabad. She had remained in jail, but was later bailed out.
Justice Naimatullah Phulpoto has ordered removing her name from ECL, but on plea from federal government, the order was suspended just a day afterwards. Naimatullah Phulpoto was made referee judge after dissenting note on the decision on ECL by the Sindh High Court.