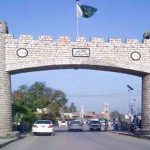 KARACHI: At least two personnel of Rangers were injured in an encounter with a suspect who blew himself up near a security check post in Hub on Saturday.
A spokesperson for the paramilitary force said the incident took place around Iftar time near Mari Gari check post where Rangers personnel were deployed.
The spokesperson said that the Rangers personnel asked the suspect to stop near the check post; however, he opened fire on the security personnel.
The personnel retaliated and in the exchange of fire, at least two paramilitary personnel were injured, the spokesperson added.
The suspect then blew himself up which resulted in his death.