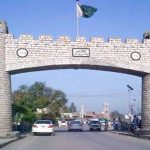 KARACHI: A suspect was killed in an alleged encounter with the aaw enforcement agencies (LEAs) late Friday night in the city's Abyssinia Lines area.
According to reports, the law enforcement agencies personnel took the suspect into custody in injured condition following the encounter but he succumbed to his injuries. It was unclear whether he died on way to or at the hospital.
Police also recovered weapons from the deceased suspect.