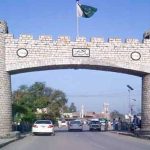 BAGH: Police in Azad Jammu and Kashmir (AJK) on Thursday arrested a man whose name appears on the Fourth Schedule of the Anti-Terrorism Act (ATA) and is said to have links to the so-called 'Tehreek-e-Taliban Kashmir' (TTK), a police official confirmed.
Kashif Hanif, 29, was arrested from Datot village on the outskirts of Rawalakot, Senior Superintendent of Police (SSP) in Poonch Mir Abid said.
Hanif is suspected of involvement in nine acts of terrorism, the SSP said.
These acts included a suicide attack on an army vehicle near Dothan village in January 2010, in which some army soldiers were injured.
He is also suspected of being involved in the planting of a bomb outside a hotel in Rawalakot in September 2010 which killed the bomber was killed and injured a citizen. Hanif has also allegedly been involved in other attacks on military vehicles and installations.
SSP Abid said that the accused was wanted since 2010 by five police stations of Bagh, Poonch and Sudhnoti districts for masterminding and executing different subversive activities.
The SSP said that the accused belonged to the group of Nazirul islam alias Shamil Khan who was the first head of the so-called 'TTK' after defecting from Asmatullah Muavia.