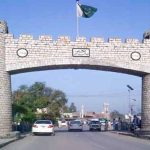 WANNA: The political administration of South Waziristan Agency (SWA) has refused to comply with the orders of Khyber Pakhtunkhwa Governor Engineer Iqbal Zafar Jhagra to exempt food and rehab items from tax.
According to Khyber News correspondent, the refusal of political administration to pass trucks through Gardawi check post without paying tax has resulted in long queues of vehicles at the check post.
The correspondent added that personnel of Levies and Khasadar forces told the transporters that they had been ordered to collect tax on food items adding they were compelled not to let any truck pass the check post without paying the tax.
Meanwhile, representatives of the transporters have held talks with the administration and also staged protests but to no avail as yet.
Five days back, Governor Khyber Pakhtunkhwa Engineer Iqbal Zafar Jhagra had ordered to exempt food and rehab items from tax in Federally Administered Tribal Areas (FATA).