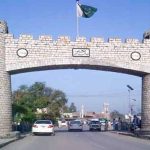 SWABI: The Swabi Women University Swabi has been closed for 15 days owing to the fears of spread of coronavirus, Khyber News reported.
According to a notification issued by the university administration on Friday, the students have been asked to take online classes. The notification said the faculty and administrative staff held a meeting on Friday to assess the current situation of coronavirus and decided to close the university for 15 days as precautionary measure. The university will offer online classes from November 07-21 keeping in view the dangerous situation of coronavirus in the province. The essential staff/administrative staff will attend the university on rotation basis to perform official duties under strict standard operating procedures.
According to a notification of Home Department, wearing of facemask will be mandatory in all indoor and outdoor public places and transport. It said all shopping malls, restaurants, hotels, bakeries, wedding halls, beauty parlours and barbershops will close by 10:00pm and all amusement parks will close by 6:00pm. Some streets in Peshawar have already gone under smart lockdown from today (Saturday) owing to the increasing cases of coronavirus in the city.
Peshawar is the most affected district from coronavirus in Khyber Pakhtunkhwa with 14989 cases, including 38 during the last 24 hours. The metropolis has reported 609 deaths from the virus so far, nearly half the deaths of the toll of the entire province. As many as 14,101 people have recovered in Peshawar and now active cases are 279.