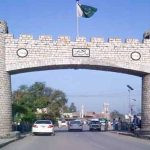 KARACHI: In the wake of the rising drowning cases at Karachi's beaches with the death toll hitting 18 in the past 10 days, the provincial government has imposed a ban on swimming in the sea for six months.
The government notified on Wednesday that under Section 144 of the CrPC, a ban has been imposed on wading through, swimming and diving in the sea at the beaches of Karachi for the next six months.
Many citizens are heading to the beaches to swim and beat the scorching summer heat.
Turbulent waves, however, drowned many picnickers, mostly teenagers.
On Tuesday, four school friends drowned at Sandspit beach. They were identified as Hamza Siddiqui, Ejaz Azad, Ali Ahmed and Hamza Anis. They were students of Matric at the Little Whittle School in Orangi Town and had arrived at the beach for a picnic with the student administration.
Two others drowned while swimming in Do Darya within the limits of the Sahil police station.