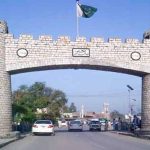 LAHORE: Prominent religious scholar Maulana Hafiz Muhammad Tahir Ashrafi has rejected Indian propaganda against Madrassa Al-Sabir in Bahawalpur.
Addressing a press conference in Lahore on Sunday, he said no illegal activity has taken place in Madrassa Al-Sabir in Bahawalpur.
Maulana Tahir Ashrafi said India has indulged in terrorist financing in Pakistan and Kulbhushan Yadav is concrete evidence in this regard.
He said peace has been restored in the region due to the sacrifices of Pakistani nation and its armed forces. He said the entire nation is standing with Pakistan army.