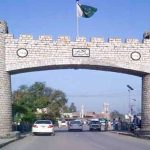 ISLAMABAD: State Minister for Interior Talal Chaudhry appeared before a bench of the Supreme Court of Pakistan hearing the contempt of court case against the PML-N leader.
A three-member bench being headed by Justice Ejaz Afzal was hearing the contempt of court case against Talal Chaudhry. The minister told the court that he wanted to hire Asma Jahangir as his lawyer for the case.
"Asma Jahangir is no more with us," he said.
Talal appeared to the apex court to grant him time to hire another lawyer. The bench accepted his requested and delayed proceedings of the case till Monday.
Chaudhry launched a tirade against judiciary at the ruling party's recent rally in Jaranwala where PML-N chief Nawaz Sharif and his daughter Maryam Nawaz also criticised judges of the apex court.
Chaudhry has been criticising judiciary in talk-shows and media-talks on occasions of hearings against Sharif family at accountability court and Supreme Court.
The Supreme Court's notice came hours after the apex court sentenced PML-N senator Nehal Hashmi to a one-month imprisonment and barred him from holding public office for the next five years for his anti-judiciary diatribe.