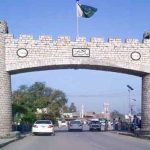 TANK: Gunmen attacked and killed Saturday a security personnel assigned to protect a polio vaccination team in Tank, Khyber News reported, citing the district health officer.
The incident took place in Tank, Dera Ismail Khan district of KP, when armed men on a motorcycle attacked the polio security team, killing one security official and injuring another.
The armed men fled the scene, and a police search operation to find them is underway, DPO Sajjad Ahmed told. The body of the martyred security personnel and injured are being shifted to the hospital, the DHO stated.
On the other hand, the banned Tehreek-e-Taliban Pakistan (TTP) claimed that its fighters attacked the polio team in Tank.