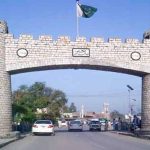 ISLAMABAD: Minister for Petroleum Ghulam Sarwar Khan has said Turkmenistan, Afghanistan, Pakistan and India (TAPI) gas pipeline will prove to be a game changer for the region.
He was talking to Ambassador of Turkmenistan Atadjan Movlamov in Islamabad on Friday.
Ghulam Sarwar Khan said Petroleum Division and TAPI Pipeline Corporation will soon sign an important document.
He said Pakistan supports TAPI project at every level.
Referring to relations with Turkmenistan, the Minister said both the countries enjoy cordial relations.