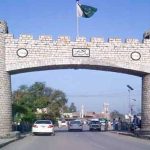 ASHGABAT: Prime Minister Shahid Khaqan Abbasi has said that Turkmenistan-Afghanistan-Pakistan-India (TAPI) gas pipeline project is an important project for Pakistan due to its growing energy needs.
He expressed these views while meeting President of Turkmenistan Gurbanguly Berdimuhamedov in Mary, Turkmenistan.
During the meeting, both the leaders highlighted the importance of TAPI pipeline project as energy, trade and transit corridor and held fruitful discussions on mutual concern, including issues of regional security.
Shahid Khaqan Abbasi termed the materialization of TAPI as success of the vision and commitment of Turkmen President Berdimuhamedov and appreciated his personal commitment in realization of the project.
He emphasized on the need for greater military and defence cooperation between the two countries and offered to assist Turkmenistan in meeting its defence needs.
Referring to prospective purchase of electricity from Turkmenistan, the Prime Minister said it would add a new dimension to the bilateral relations between the two countries.
The Prime Minister reiterated Pakistan's full support to Turkmenistan's policy of Permanent Neutrality and President Berdimuhamedov's initiatives at the UN.
The President of Turkmenistan Gurbanguly Berdimuhamedov thanked Prime Minister Shahid Khaqan Abbasi for joining the inauguration ceremony of TAPI and link-up projects going to be held today.
He expressed keen interest in Gwadar Port project.
He also expressed hope for strengthening of cooperation in education, science, healthcare and sports between the two countries.