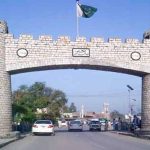 LAHORE: Former prime minister Nawaz Sharif said on Thursday that the 'targeted accountability' was not accepted to the nation, adding that he was not seeing transparent accountability in the country.
He was discussing the PML-N's preparations for the coming elections and the country's political situation with Prime Minister Shahid Khaqan Abbasi who called on him at the Jati Umra here.
Terming 2018 as an election year, the former premier urged the need to expedite contacts with the masses and party workers.
He said that strength of all the institutions lies in the parliament's power, adding that he was ready for making every sacrifice to support democracy in the country.
During the meeting, both the leaders were agreed to remove concerns of JUI-F chief Maulana Fazlur Rehman and others with regard to Fata-KP merger.