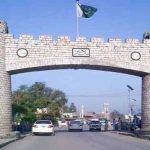 MIRANSHAH: Some unknown armed men kidnapped and killed a local tribesman in Miranshah, Khyber News reported on Thursday.
According to reports, five armed men in uniform stormed Khyber Market, near Pakistan Market in Miranshah and kidnapped Mohammad Nawaz. The armed men, later on, killed him.
The local tribesmen of Utmanzai tribe have expressed anger over continued targeted killings in North Waziristan Agency and demanded of the security forces and political administration to take steps for stopping the targeted killings in the area.
The tribesmen alleged that the political agent Ayaz Khan has restricted himself to his office and did not take interest in solution to the people problems. The tribesmen demanded of the government to remove the political agent and stop targeted killings in the areas, otherwise, they would start sit-in.