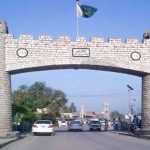 ISLAMABAD: The Islamabad High Court (IHC) increased on Monday the sentence of a suspended judge and his wife in a case related to torturing a child maid, taking their total jail term to three years.
A division bench of Islamabad High Court, comprising Justice Athar Minallah and Justice Miangul Hassan Aurangzeb, dismissed the appeals of the suspended judge and his wife, and increased their sentences. The court also imposed a fine of Rs0.5 million on the convicts.
On June 16, IHC Justice Aamer Farooq ruled that suspended Additional District and Sessions Judge Raja Khurram Ali Khan and his wife Maheen Zafar would serve a year each in prison for torturing the child maid under Section 328-A (cruelty to a child).
The two were also fined Rs50,000 each for the crime of employing an underage (below 12 years of age) child. However, the judge and his wife had gotten bail immediately after the verdict was announced.
Later on April 23, a two-member bench of IHC, comprising justices Azharmanullah and Miangul Hassan Aurangzeb, suspended their sentence has suspended their sentences.
On December 29, 2016, Tayyaba, a 10-year-old domestic help, was recovered from the house of the judge after receiving complaints of torture from neighbours. The issue sparked outrage on social media and led to calls for strict and swift justice.
Subsequently, a first information report (FIR) was filed against the judge and his wife at the I-9 police station.
An inquiry report by the police had found that the judge's wife was responsible for torturing the child maid, and Khurram of indirect criminal negligence.
Later, on January 3, 2017, Tayyaba's parents reached a compromise and forgave the accused.
However, Chief Justice of Pakistan Justice Mian Saqib Nisar took a suo motu notice of the compromise agreement and ordered the IHC to conduct a trial of the case.
Following the incident, the IHC had suspended the judge and made him an officer on special duty (OSD).
In total, the statements of 19 witnesses were recorded in the case, wherein 11 were from civil servants and eight from private witnesses, including Tayyaba's parents.