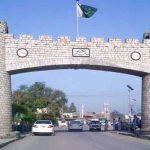 PESHAWAR: Tourism Corporation Khyber Pakhtunkhwa (TCKP) in collaboration with Adventure Club is arranging second adventure marathon race on November 19.
The second of its kind in history of KP, the marathon would start from Pir Sohawa road in Islamabad to Khan Pur lake covering a distance of 23 kilometer. As many as 12 teams comprising a total 60 participants would cover 13 Km distance while tracking, 9 kilometer via cycling and one Km through boat.
The participants would go through Talhar village in Islamabad, Korally top, Toniya village, Najaf Pur and Pomala villages and Khan pur lake.
Managing Director TCKP Mushtaq Ahmed said on Monday that the event is aimed to promote tourism and to give adventure facilities to youth, adding that race would start on November 19 at 8 am while the last date for registration for race was November 13 and selected youth would have to reach Islamabad on November 18.
He said registration could be done online while accessing TCKP website www.kptourims.com or facebook page of TCKP.