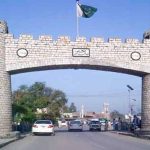 SHEIKHUPURA: A landlord in Sheikhupura chopped off the hands of a 13-year old boy who was asking for salary.
Teenager Irfan was employed by Shafqat Bibi was paying him Rs. 3000 per month to work in her house and feed her cattle in Macharwali village in Sheikhupura.
He refused to work for her until she provide him with food and pay his salary. The landlord put the boys' hand into a machine.
Irfan was rushed to a nearby medical facility but the doctors were unable to heal his hand, leaving him handicapped.
The local police were hesitant to file the case. They filed the FIR against the landlady 10 days after the incident took place and have also nominated her brother and two others in the case.
Chief Minister Shahbaz Sharif visited the village and met Irfan. Expressing anger over the delay in filing of FIR, the chief minister stated that he will look into the case himself.
Chief Justice of Pakistan Mian Saqib Nisar has also taken suo-motu notice of the incident as well.