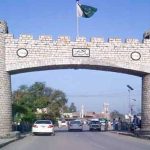 PESHAWAR: Police officers on Tuesday launched a crackdown and arrested at least ten young doctors who were protesting at Hayatabad Medical Complex in Peshawar.
While striking against amendment in medical teaching institutes (MTI) act and non-payment of allowances, the doctors were trying to lock OPD and emergency when security officers baton charged them and apprehended three doctors.
The protesters said that the provincial government would not be allowed to amend MTI Act at any cost whereas they also demanded to sack chairman of hospital's board of directors with immediate effect.
The doctors continued their protest despite detentions whereas heavy contingent of police was also summoned to handle the situation.