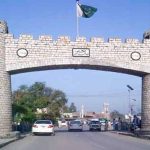 KOHAT: At least 10 children were died when their boat capsized in Tanda Dam of Kohat on Sunday in northwest Pakistan.
All of the dead so far recovered from Tanda Dam lake, were between seven and 14-years-old, belonged to a religious seminary, said local police.
According to district administration, the rescue teams rescued 17 kids from the water, some with critical condition, and shifted them to a nearby hospital. Search for the other missing students was underway.
The boat was carrying between 30 students on a daytrip from a local madrassa when it overturned.