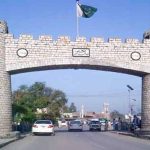 Growing discontent among several members of the ruling Balochistan Awami Party as well as allies of the Balochistan government has led to them demanding the replacement of Balochistan Chief Minister Jam Kamal, sources told the media on Sunday.
According to sources, tensions have risen between the chief minister and the PTI members of the Balochistan Assembly. During the recent trip by Prime Minister Imran Khan to Quetta, the PTI provincial assembly members made several complaints regarding Kamal, the sources said.
Sources said that the prime minister met six members of the PTI's parliamentary group, led by Parliamentary Leader Sardar Yar Mohammad Rind and including the Deputy Speaker Balochistan Assembly Sardar Babar Musakhel.
According to sources, the group complained that Kamal was "spoiling the PTI in Balochistan".
"Apart from Jam Kamal, any chief minister from BAP would be acceptable," the group was quoted by the sources as saying.
The sources said that there was talk of re-appointing Speaker Qudus Bizenjo as chief minister in place of Kamal. If the BAP changes its chief minister, PTI will accept their choice, they said.
They added that after meeting the parliamentary group, the prime minister had a one-on-one meeting with the chief minister.
On the other hand, many ministers and assembly members of BAP are also annoyed with Kamal.