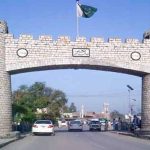 ISLAMABAD: Security in the Federal Capital has been put on high alert by setting up at least 25 new check posts and introducing stricter surveillance of the red zone and public transportation system.
The decision of increasing in number of check posts and surveillance cameras has taken in view of spike of terror attacks  in the country.
The announcement was made by the police early on Tuesday morning.
Police said that they have installed 25 additional checkpoints throughout the city, and security cameras will be observing all entries and exits from the red zone. Every person who uses the metro in Islamabad will also have their footage recorded.
Special security plan Issued in view of current security situation in Islamabad. Temporary security check posts have been established at 25 different locations in Islamabad. Red zone entrances will be recorded by Safe City cameras.Metro service passengers video will be recorded⬇️

— Islamabad Police (@ICT_Police) December 27, 2022
The police also advised citizens to keep their identification documents on hand at all times and to make sure their vehicles carry offically issued license plates.
The police also asked foreign nationals to keep their documents on hand. Residents should register their tenants and employees at their relevant police stations or Khidmat center, the police said.
"Report any unusual activity on call 15," the police said.
Recent attacks and security alerts by embassies
On Friday, Islamabad was struck by a suicide bombing — its first in years — that took the life of one policeman and injured five others. The attack happened at a police checkpost, when the officer stopped a vehicle for a search.
Following the bombing, the US embassy on Sunday issued directives to its staff to exercise caution and avoid unnecessary travel in the country. A day later, the Saudi government also told its citizens not to travel unless absolutely necessary.