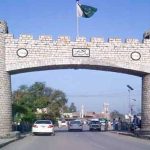 QUETTA: Levies' personnel foiled a terror plot in Kohlu district of Balochistan during an operation against suspected terrorists in the area on Saturday night.
Deputy Commissioner (DC) Kohlu said that the operation was carried out at a suspected terrorist hideout late last night after Levies' officials received a tip-off from intelligence agencies.
The DC said that there were no arrests; however, he claimed that officials recovered a sizeable cache of weapons, including 181 shells of RPG-7 rockets, 172 RPG fuse and 80 RDS.
Akhtar said that the action was carried out under Pakistan Army's ongoing Operation Radd-ul-Fasaad, which was launched in February in the aftermath of a resurgence of terror attacks in the country.