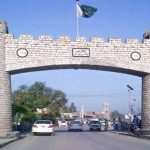 PESHAWAR: City police on Wednesday foiled a bid of terrorism by recovering huge quantity of weapons during a search conducted in Regi, outskirts of provincial metropolis.
According to police, search operation was carried out on a tip off regarding dumping of arms and ammunitions by miscreants, Abdullah and Mumtaz.
Under the directives of SSP Operations, Javaid Iqbal, a police team raided a house situated in Ghazali Garhi area of Regi and recovered huge quantity of arms that was hidden underground by militants.
Recovered arms included three anti tank mines, one rocket launcher, three rocket mortars, seven 81 mm mortar rounds, 100 detonators, 18 timers and ten hand grenade igniter sets.
Police has registered cases against the alleged miscreants and started investigations.